User Guide > Working with objects and properties > Types of objects > Visual objects > Hide a visual object
---
You can make the object to be invisible at run time. In the Project panel, when an object is not visible, the eye icon will be displayed in the tree item that corresponds to an object :

To show or hide an object
1. Select an object in the Project panel or on the Artboard.
2. On the context menu of the selected object, click the Hide menu item. Or click the Hide menu item on the extended menu of the object at the top in the Properties panel.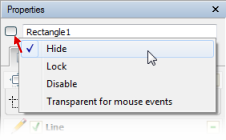 On the Artboard, you can use the "Show/Hide hidden objects" button (

) to be able to see and edit the hidden objects at design time .