User Guide > Working with behaviors > Working with events and actions > The list of actions > Show or Hide visual objects
---
Use the "Show/Hide objects" group of an action to show or hide some objects at runtime.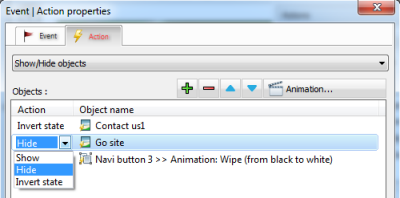 1. Add objects by using the Add object button (

).
2. Select the Action using the combobox in the listbox : Show objects , Hide objects or Invert objects.
3. Then you can sort objects (

) (

) and delete them (

).
Additionally you can show and hide objects with accompanying impressive animated effects: Fly In , Fly Out, Wipe (50+ different effects), Fade.
Click the (

) button to select an effect and set other parameters :