User Guide > Working with behaviors > Working with events and actions > The list of actions > The Flash player object actions
---
Use the "Flash player actions" group of an action to manage the Flash player object at runtime.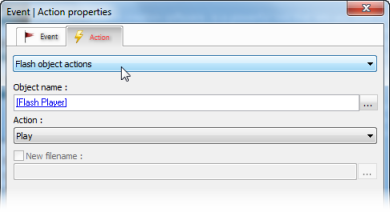 1. Select the desired Flash player object by using the select object button

.

2. Select one of the following actions :
•

Play

- start a playback.
•

Pause/Resume

- pause/resume a playback.
•

Back

- go back to the previous slide.
•

Forward

- forward to the next slide.
•

Rewind

- rewind to the start.