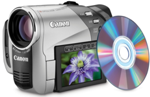 Most families these days have a video camera and lots of family videos with birthday parties, mom and dad anniversaries, vacations and other interesting events and family moments that we may want to put onto a compact disk with a CD menu, professional design and navigation. Firstly, this can help you save your videos for the lifetime of enjoyment. Secondly, video disks can make a nice personalized gift to people we love. However creating a video disk does not come easy for most people. Anyone who ever tried to author such a disk can tell you that it's not a simple affair for the inexperienced beginner because you must learn a complex authoring suite with enumerable dialogs, options and menus. So, in this post I wanna give you a tip on how to simplify video disk creation.
When you need to create a home video disk with CD menu, you shouldn't spend days on reading the user manual and familiarizing yourself with the authoring software. Make this disk with a simple tool like Autoplay Menu Designer. You can download the installer from this link. Once installed, the software's project wizard will let you jumpstart your first design project in minutes without any heavy-lifting. The step-by-step wizard prompts you to type in your project name, select a template from the rich library of professional layouts, and then select the project folder. Then, the project opens into the designer where you can continue your magic.
Now add your video files to the project. Because you selected to use the default design, the only thing you'll have to do is to add navigation to the CD menu. You can do it by adding buttons, hyperlinks, hot areas, on-mouse and on-click events to connect parts of the front-end together. But if you want to make alterations to the default design, the program gives you a complete set of tools to do so. For example, you can add text, pictures, shapes; customize font style and color; re-arrange the elements of the default layout you selected.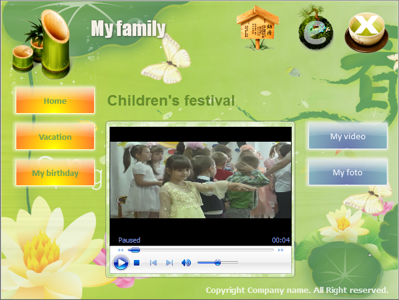 In addition, Autoplay Menu Designer lets you compile and save the project to a recordable CD or DVD disk. For this purpose, there is a built-in tool for burning disks without stepping out of the software. Autoplay Menu Designer lets you create a professional-looking video disk with CD menu that's worthy of its contents. Once the disk is created, it becomes the best way to store and preserve family video memories for many years to come.
Download Autoplay Menu Designer to preserve your family video on disks.