How to Make a Perfect Wedding Autorun Disk
Wedding ceremony and reception are truly the best moments of life for a married couple. The wedding day must be truly magical, unforgettable celebration! Every detail counts: decorations, musicians, food. And an eye-catching wedding slideshow or video presentation could become a nice finishing touch adding to the glorious ambience of the day. In fact, a well-made wedding disk can even become the central element of the whole ceremony!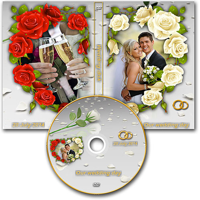 In fact, creating such a wedding CD/DVD/USB presentation is easier than you think. Imagine a fullscreen interactive slideshow telling the love story of newly weds, or displaying each one's childhood photos on a big screen. Or would you prefer a compilation of funny video fragments and congratulation clips from invitees? Also you can prepare an easy-to-use autorun DVD with picturesque collection of interactive photos surrounded by touching background music or a footage of the engaged couple dancing. Such disk will easily create the mood, fun and a bunch of smiles once inserted into the computer for those friends and relatives who didn't manage to come to the wedding. And those who did now have a chance to enjoy the celebration one more time. With the help of Autoplay Menu Designer you can embody virtually any idea!
Here is a brief explanation of how to make an absolutely fantastic celebration autorun CD, DVD or USB drive. First of all, create a project in Autoplay Menu Designer and select one of available wedding themes that come with the program. Surely, you can adjust any of them or even create your own design if you are on familiar terms with the tool. Depending on the idea of the autorun menu, you can change the number of sections of the disk menu, decorations, special and transition effects, image and music background and more. Release your imagination and feel free to create, no programming skills are required!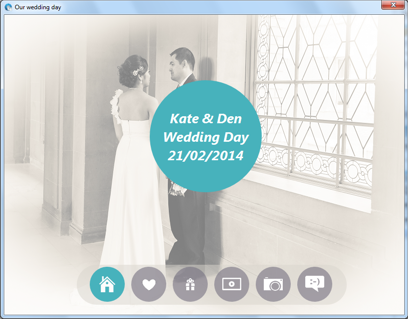 As soon as the overall look of the wedding autorun disk menu is selected you can start filling it with content. Obviously, you don't want photos and videos to just boringly alternate each other. The key to a spectacular presentation is a balanced combination of ideas, effects and synergy between each element of the show. And Autoplay Menu Designer provides everything you need for this.
In particular, such special objects as Image preview, Image list and Slideshow plugins allow you to play around with photos composing a literally outstanding wedding presentations. There are countless scenarios: you can create several slideshows (wedding preps, reception, banquet etc.) and let the viewing person switch between them; you can let the user to control the playback; you can display fullscreen photos one by one, or create interactive galleries; you can combine serious photos with funny and somewhat silly pictures to display them in parallel producing nice comic effect based on the contrast.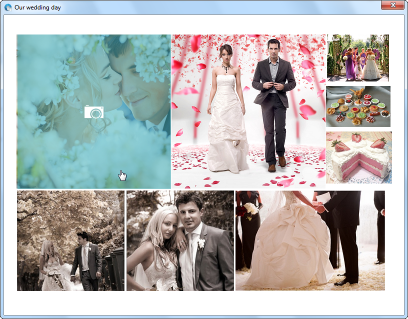 And if you want to supply some video clip, that's no problem too. In you can use the built-in Media player object to insert a clip or a playlist of various media files to your autorun DVD app. A proper choice of background music is also a must. Lyrical romantic compositions are ideal for tender and soft moments, while funny rhythmical songs will effectively give a good shake to all party guests. Simply create your own musical playlist and let the user control it interactively.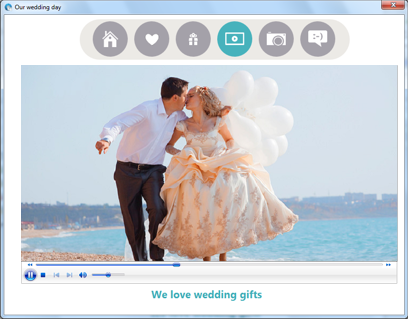 Finally, Autoplay Menu Designer quickly publishes interactive wedding CD, DVD, or a USB stick you created. With such a bomb in your pocket you can virtually explode any wedding ceremony turning it to a unique and charming celebration, as well as create a memorable gift to guests of the wedding.